I know I don't write often, but when I do I prefer to write awesome. What I have been witnessing from an apartment marketing standpoint in the last couple of days have been awesome. This is a story about The Irvine Company, Los Olivos community and the Veturis sisters
So let me introduce you to Haley Veturis, Rochelle Veturis, and Chelsey Veturis. I follow them both on Twitter and Instagram. I was noticing pictures being posted on Instagram with the hashtag #losolivossisteract. At first, I thought this was a nice little family reunion celebrating moving into a new apartment community that just looks amazing. I asked Rochelle on Instagram whether or not the property management company knew about all of the publicity they were getting. Her reply was: Actually they do! They're hosting my sisters and I for one special week.
Now it was all coming together for me. This is my first time seeing apartment marketing go in such an amazing direction. As apartment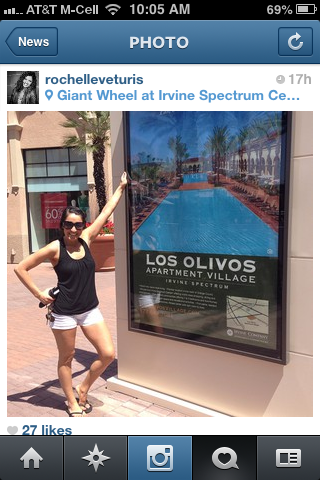 marketers we have raved and discussed marketing moments like when Scott Monty gave influential bloggers a Ford car and asked them to blog about their experience. The direction was unique. The results were fantastic. Now we see The Irvine Company harness the power of three awesome sisters who have a combined Twitter following of over 50,000 followers to help showcase the Los Olivos community. The icing on the cake was to have Ted Nguyen who has over 168,000 followers on Twitter and is very influential in the digital space be involved in the process and post about this in a Storify article. There were other influential folks there as well but I think you have grasped the point by now.
Hmmm…a step out of the traditional way of apartment marketing, to say the least. No boring conventional marketing here. A huge hat tip to The Irvine Company marketing and public relations department. Now I know this approach would not work for most levels of apartments out there, but for a luxury apartment community, this was pretty amazing. I look forward to hearing about the results of this campaign in the future. I am going to be drilling in to get some more details from the Veturis sisters with their thoughts on this event. With the few details I have, I just think this was an amazing use of harnessing the power of people and social media. Dig into the story, my friends. What's your feedback? Is this apartment marketing awesomeness?
Written by Jonathan Saar