Teachers are absolutely amazing people whom we know barely get enough credit for the work they do. My daughter graduated from grade school and I had the privilege to attend the ceremonies. In the end, there was a standing ovation by the parents and students on behalf of all the teachers. There was barely a dry eye on the part of all the teachers on stage but the tears did not end there.
My wife and I headed back to my daughter's classroom for a small reception and to express our thanks to Ms. Riggins. It was there that we witnessed something really special. I saw firsthand how much of an impact Ms. Riggins had on her class. I witnessed a fine young boy who realized this was his last day with his teacher and could not help but hug her so tight with tears streaming down his face. (My keyboard got a little-wet writing this) The parents around and my wife and I were so proud of this young man for expressing his appreciation for Ms. Riggins and I wish to do the same in this post.
Ms. Riggins, I can't thank you enough for the impact you had on my little girl's life. It was all too often that she would come home from school with the stories of the day about the different things you did for her and the class that put a huge smile on her face and made her laugh. Through my daughter's eyes and through some of our conversations it is so apparent your commitment and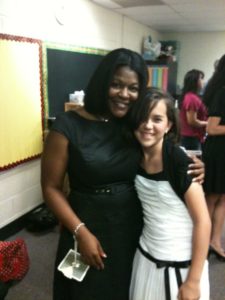 fondness you have for your students. I admire the dedication and hard work you give every single day. You have made an impact on my daughter's life that she will remember forever. Thank you for your dedication, passion, and commitment to every one of your students and for giving of yourself because it's what your heart tells you to do. My baby came home and I could tell she was crying. At the same time, she reflected just how much fun she had being a student of yours. Thank you from the bottom of my heart. ~~JS
Teachers do not get near enough credit for the work that they do for our children. When I think back to my school days there were a couple of teachers who I have always remembered. Mrs. Woods and Farnsworth were two that I have never ever forgotten. They loved their work and they loved their students. They made it easy and fun to learn and they genuinely cared for everything I did. I don't know where they are now or if they would ever read this post but I will say what I have to say anyway: Thank You!!! What I reflected on was the amazing connection that these special teachers create with their students. How can it be possible that going through the daily affairs of Math, English, History etc, could invoke such an unforgettable bond? It's all in the daily delivery I am sure. All of you teachers certainly teach us what it takes to make a difference each day in someone's life and I thank you from the bottom of my heart for that.
Let's dedicate this post to all of our favorite teachers! I would love to hear who your favorite teachers were and why they had an impact on you. Please share in the comment section below.
Written by Jonathan Saar